March 31, 2023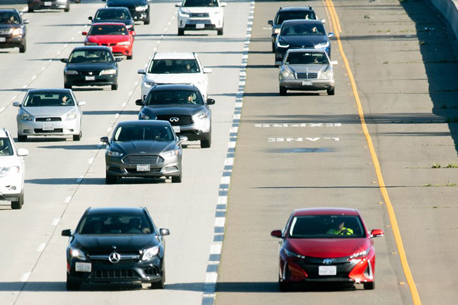 On March 31, 2023, new tolling policies went into effect on the Interstate 580 Express Lanes and Interstate 680 Sunol Express Lanes. One important change for drivers of clean air vehicles (CAVs) to know: solo drivers will now pay a toll on these express lanes.
Eligible clean air vehicles are those with a light green, yellow, blue or orange decal. Drivers must have a FasTrak toll tag in the vehicle with switch set to match the number of occupants. Solo drivers using a FasTrak CAV toll tag set to the 1 position will receive a 50% discount off the posted toll. Solo drivers using a FasTrak Flex toll tag will be charged the full amount of the posted toll. CAV carpools of two or more occupants with a toll tag set to the 2 or 3+ position will still travel in these express lanes for free.
Previously, all eligible clean air vehicles with any number of occupants could drive in the I-580 and I-680 express lanes toll free. With the updated rules, the toll discount for solo drivers of CAVs is the same on all Bay Area Express Lanes.
The I-580 Express Lanes run eastbound from Hacienda Drive in Pleasanton to Greenville Road in Livermore, and westbound from Greenville Road in Livermore to San Ramon Road/Foothill Road in Dublin. The I-680 Sunol Express Lanes run northbound from north of Mission Boulevard/State Route (SR) 262 to SR-84/Vallecitos Road, and southbound between SR-84/Calaveras Road and SR-237/Calaveras Boulevard.
All eligible clean air vehicles must have a FasTrak CAV toll tag to drive in Bay Area Express Lanes for discounted or free tolls. Apply for a FasTrak CAV toll tag.
Express lanes are designed to keep traffic moving reliably without congestion, and to encourage travelers to carpool or use transit to get a faster trip. Learn more about using the express lanes at https://www.bayareafastrak.org/en/tolls/toll-locations.shtml . Learn how to find a carpool match at 511.org.