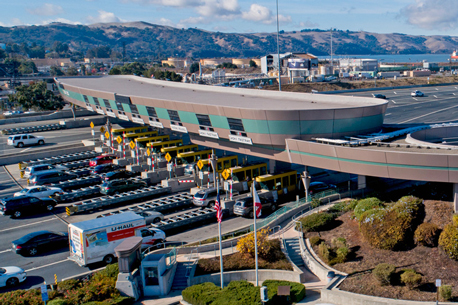 If you had crossed the Benicia-Martinez Bridge in 2022, you may have recently received an invoice for tolls for those crossings. Or maybe you have noticed one or more recent charges that posted to your FasTrak® or license plate account for crossing the Benicia-Martinez Bridge in 2022.
The Bay Area Toll Authority corrected an issue where a limited number of crossings on the Benicia-Martinez Bridge in 2022 were delayed in processing. This issue was related to only one toll lane on the bridge. While many of the tolls have since been processed, tolls for crossings in the period between February 11 and July 31, 2022, have recently been appearing as delayed charges to customers' accounts, or as invoices sent by mail. Of the thousands who take the bridge every day, only a fraction of drivers were affected by this issue.
If you received a recent invoice or a delayed charge to your account for when you had crossed the bridge during the timeframe listed above, we are very sorry for the confusion this may have caused. We've fixed the processing problem, and any invoices or charges to your account you receive in 2023 for this timeframe will not result in late penalties based on the dates when you traveled on the bridge. (Just be sure to pay your invoice within 21 days of when the delayed toll charge posted to avoid future penalties.)
In fact, for frequent drivers who used the impacted lane at the Benicia-Martinez Bridge between February 11 and July 31, 2022, we've capped the tolls charged to you at no more than six during this period.
We know this has created some confusion and we apologize for the inconvenience this may have caused you. The Bay Area Toll Authority is committed to making your toll payment experience as easy as possible, and this includes making sure our electronic payment systems are functioning correctly.
More questions? Read our FAQs. If you do think there is an accounting error with your FasTrak or license plate account, or you think you received an invoice in error, please call our Customer Service Center at 877-BAY-TOLL.